Engineering Centre «Energoservice»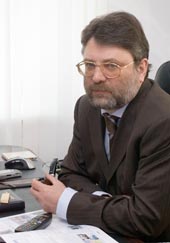 General Director
Igor Fleyshman
Limited Company «Engineering Centre «Energoservice» was established in 1992. At the company's foundation many of our employees had had experience in research work and implementation of their own designs in electric power and industrial sectors. Now the company employs more than 200 highly qualified experts, most of them are engineers of different specialisms. A number of leading experts of the Engineering Centre have PhD and ScD degrees.
The main activities of the «Engineering Centre «Energoservice» are as follows:
development and implementation of software and hardware systems for SCADA and automation electric power meters;
design and installation of microprocessor systems for protection and automation, development of relay protection and automation devices rackmount cabinet, integration of microprocessor relay protection devices into SCADA systems;
design and turn-key construction of switching equipment and substations from 400 V to 110 kV, modernization (retrofit) of switching equipment and substations, wide application of modern power equipment and intelligent electronic devices;
energy-power equipment (e.g. diesel-generating plants, energy centers for oil and gas deposits, gas-compressor equipment);
establishment of modern engineering infrastructure for enterprises and companies (systems of electric power supply systems and uninterruptible power supplies, communication systems, structured cable systems, closed circuit television observation systems and technical safety).
[an error occurred while processing this directive] [an error occurred while processing this directive]